Print book
Identifying issues and ways forward: SWOT analysis
Identifying issues and ways forward
| | |
| --- | --- |
| Site: | ECML - Moodle | Community |
| Course: | Virtual Open Course (VOC): Collaborative Community Approach to Migrant Education |
| Book: | Identifying issues and ways forward: SWOT analysis |
| Printed by: | Guest user |
| Date: | Saturday, 26 September 2020, 8:07 PM |
2. Identifying issues and ways forward
To solve a problem two different types of mental skills are needed: analytical and creative. Analytical thinking involves reflecting, ordering, comparing and selecting. Creative thinking allows us to create a wide range of possible solutions to identify the most practical and effective.
In Education, we also face up to difficult situations and challenges everyday. This section offers a reflective and creative strategy to address these situations: SWOT analysis.
2.1. What is SWOT analysis?
SWOT stands for Strengths, Weaknesses, Opportunities and Threats.
The value of this as an educational strategy is that it is an invitation to collective reflection. This process enables participants to identify positive and negative issues in their own context and undertake changes and improvements with a positive impact (García Carrasco 2013).
SWOT is an efficient and effective framework to collaboratively construct strategic plans for a better education.
picture by Ruth García Carrasco
2.2. How it works
To carry out a SWOT analysis, participants are organised in groups (at least two groups are needed) of no more than 5 participants each group. If the participants are not familiar with the strategy, it is important to devote some minutes to explain the terminology and the procedure to be followed before conducting the activity (García Carrasco 2013).
Each participant will be given a template to record the different ideas exposed during the discussion. Nevertheless, it is important that the group appoints a spokesperson in charge of sharing the group contribution in the feed-back session.
The activity usually lasts between 60 - 90 minutes divided as follows: 30/45 minutes devoted to the group work and 30/45 minutes for the idea-sharing session.
The final contributions from the different groups can provide final agreements to be materialized in an action plan. You will find a model activity regarding migrant education under the label "Try it" of this section and a SWOT study template by clicking HERE.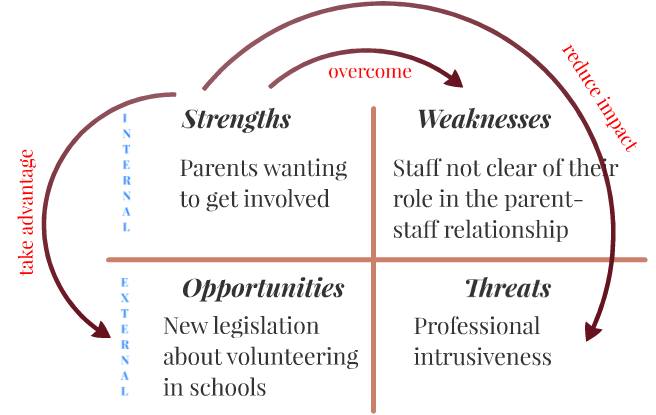 picture by Ruth García Carrasco

2.3. References
- Balamuralikrishna, R. & Dugger, J. C. (1995). "SWOT Analysis: A Management Tool for Initiating New Programs in Vocational Schools". Journal of Vocational and Technical Education. Volume 12, Number 1. Web <http://scholar.lib.vt.edu/ejournals/JVTE/v12n1/>
- García Carrasco, R. (2013). "Bilingual Education: Where do we stand and where do we go?" National Association for Language Development in the Curriculum (NALDIC). Volume 13, Number 4. ISSN 1751-2182.